In this update:
Soft Solutions is changing our name from 1st November
October 2023 Auckland, Hamilton and Tauranga event recap
3CX – version 20 preview
End of year preparations
3CX recent news
Grandstream's GWN.Cloud and GWN Manager upgrade
Grandstream Routers – how to create site-to-site VPNs
Yealink promotions
Jabra product spotlight
Fanvil IP phones and NFRs
3CX Technical Certifications – no news yet on exams, online training in November
3CX partnership – not a partner yet? Come and join us!
Case studies – stories sell products!
Demo equipment
Join our LinkedIn UC community to see news first
Soft Solutions is changing our name from 1st November
If you haven't seen our big news, we're undergoing a transformation and from 1st November we'll be known as Bluechip Infotech New Zealand Limited or Bluechip for short! What does this mean for you? That's simple – it's business as usual and you'll continue to receive the exceptional service we've always provided. There will be no change in people, products, or services on that date, just a change of name. You'll start to see e-mails from our new domain of bluechipit.co.nz and our website and Reseller Portal will also re-direct. Anything sent to our sofsol.co.nz will get through.
After 28 years, it's the end of an era for the Soft Solutions name – Megan is sure she'll have an identity crisis after nearly 14 years at Soft Solutions and prior to that working with the team as a supplier for many years as well. If we trip over where we're calling from it will make for a few laughs!
If you do have any questions around the change, do reach out to us on uc@bluechipit.co.nz and we'll be happy to assist.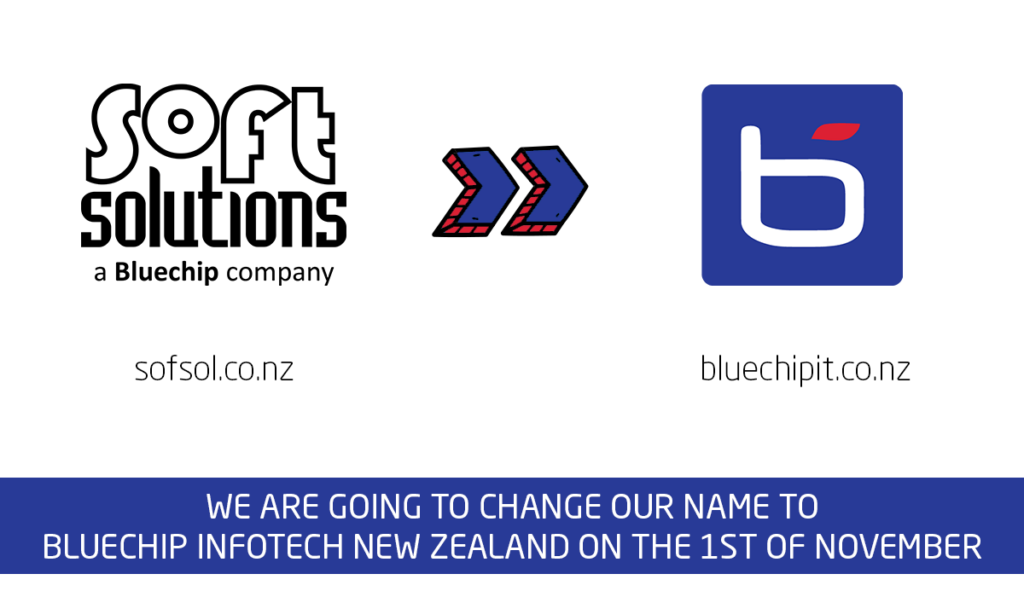 October 2023 Auckland, Hamilton and Tauranga event recap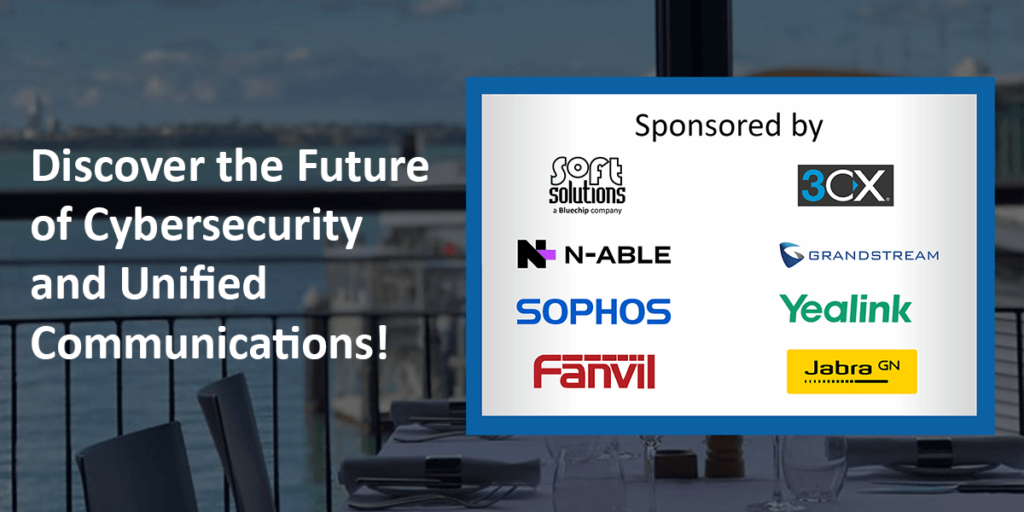 It was fantastic to see so many of our partners in Auckland, Hamilton, and Tauranga – for those that didn't make it we're sorry to have missed you. Megan coined the phrase "speed dating UC with Soft Solutions" as she took us through our 5 key brands of 3CX, Yealink, Grandstream, Jabra and Fanvil. A few snapshots from the events below where we had hardware out for everyone to review. Thank you to our partners for attending and our vendor sponsors. Watch for more multi-vendor events throughout NZ in 2024.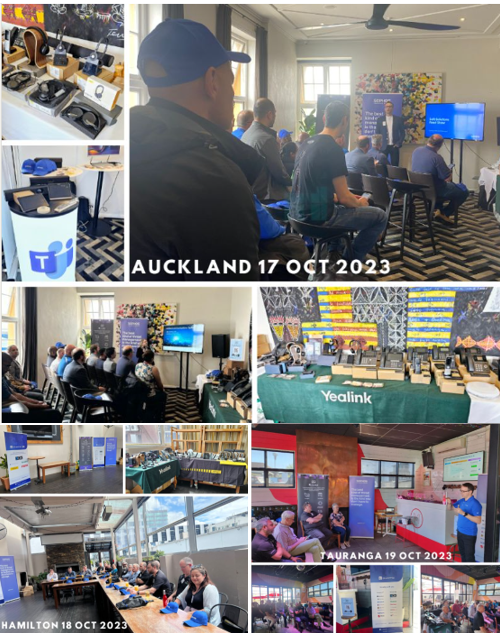 3CX – version 20 preview
In last month's newsletter we covered what was coming in version 20. On the 29th of September (30th our time) the preview went live. This is pre the Alpha of the solution so not designed for production systems. We have it loaded up on our inhouse test system to start reviewing the changes – we'll do significantly more testing once the Alpha is released.
You'll find the preview announcement at this link. To recap the key announcements of what we know so far – after 15 years this is a completely re-architected version – goodbye to some of the hard coding that was there from the beginning. The original solution was designed for on-prem, Windows installations – today most install in the Cloud and on Debian (Linux). Version 20 is the 3CX to take us forward into the future. Key things to be aware of:
No more Management Console – only the Admin Console.
Groups become Departments and much more powerful – no longer are office hours controlled at a SIP trunk level.
Easy to remember URL making it so much simpler for everyone!
New native Windows Softphone which will be downloaded from the Microsoft store.
New Call Manager (SIP server) – lots of updates that will in turn lead to… improved Reporting!
Debian 12 for Linux – latest version to help future proof the build. Debian 12 released in June 2023.
New powerful API's – will need skilled developers to leverage.
Troubleshooting has been made easier.
Key requirements:

On premise installations require split DNS. A new blog has been published around these requirements and updated Firewall guides for some major brands. Please review 

here

.
Every installation must have one System Owner or the upgrade won't be allowed.
It will require reconfiguration of global office hours to the Department level.
Perpetual licenses will not upgrade to v20.

The roadmap of what won't make first release:

On board video conferencing – you will easily configure your own video conferencing service for highest level of confidentiality.
Wallboard and switchboard improvements – including an outbound wallboard.
Receptionist view – committed to improvements.
Group SMS texting.
Multi-instance/selfhosted SMB – more info to come and will be restricted to larger partners.
Teams integration – this was indicated that it's staying and needs reworking when update 6 was released.
Based off the 3CX announcements, we're expecting to see the Alpha very soon and then followed fairly quickly with the Beta. Some other key features that will not make it into initial launch and may delay some upgrades for customers are:
Bridges.
Hot desking.
CFD (Call Flow Designer) apps.
MS Teams integration as indicated earlier.
As more information is released, we'll share this to you. If you have queries, reach out to us on uc@bluechipit.co.nz.
End of year preparations
Do you have licenses expiring in late December or early January? Renew them early to ensure no disruption to your customers.
Are you on track for your revenue targets to retain your partner level leading into 2024? Or are you close to moving up a partner level? You can view the US or EURO retail revenue on the Dashboard when you login to your Partner Portal. If you need to discuss reach out to Megan directly.
Reach out to your customers requesting information on what they need for:

Holiday season IVR's.
Re-routing of calls or forwarding if needed during a shutdown period.
If you're going to be on skeleton staff ensuring they know how to contact you for any urgent issues that may occur.

A great time to also schedule:

Any required maintenance while things are quitter in late December and January.
Health checks – is their system working how they want; do they need alterations to their call flows etc.

With all the events of 2023, it's also a really good time to ensure that passwords are secure. No would be a good time to regenerate them all or have a mandatory password reset for all users. A password management tool will really help with this moving forward to ensure users are using sensible passwords. System security is only as strong as its weakest link and if someone uses password123 or similar, opportunists will get in.
Soft Solutions/Bluechip Infotech will be closed from the 22nd December and re-opens on the 8th January 2024 so that our team can rest and recharge for what promises to be a huge year in 2024.
3CX recent news
G2 is the largest business software review site – in the recent Fall 2023 Report 3CX claimed an impressive 60 badges. This follows the 45 badges they claimed earlier in the year in the Summer 2023 Report! What's most special about these badges/awards is that this is the end-users votes and opinions. You can see the full blog announcement here.
Grandstream's GWN.Cloud and GWN Manager upgrade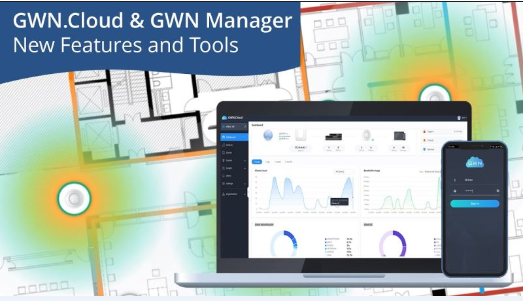 Discover the latest major upgrade to GWN.Cloud and GWN Manager from Grandstream Networks. These free tools are the ultimate solution for managing your GWN networking portfolio. The key enhancements include:
VPN options: PPTP, IPSec, OpenVPN, and WireGuard tunnel modes for enhanced security.
Traffic Management: Introducing new policy routes for more efficient network control.
Expanded Device Management: Easily add multiple routers to a single network, configure devices in groups, and enjoy push configuration capabilities.
Speed Test: Analyse your network's access point speed effortlessly.
Plus, much more…
And here's the cherry on top – all GWN products from Grandstream include a standard 3-year warranty!
Curious to see these upgrades in action? Check out the YouTube overview video here and for a comprehensive look at all the fantastic new features, dive into the full release notes here.
If you'd like to know more or take any of the GWN portfolio for a test drive reach out to us on uc@bluechipit.co.nz
Grandstream Routers – how to create site-to-site VPNs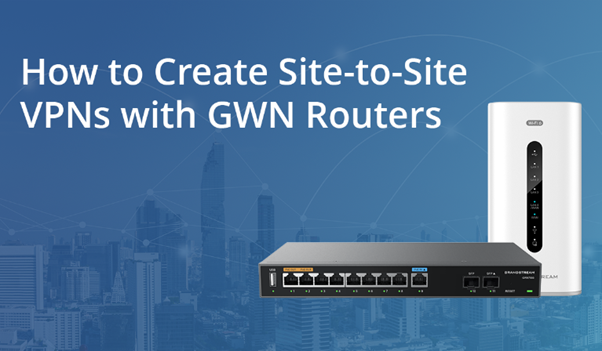 Grandstream has a range of WiFi and multi-WAN Gigabit Routers, their latest blog looks at how to create site-to-site VPNs. VPNs are a day-to-day necessity in most businesses and this in depth blog takes a deep dive into why you need and how to setup. We have demo units of these popular units so if you'd like to borrow one to take it for a test drive please reach out to us on uc@bluechipit.co.nz
Yealink promotions
For full details of our Q4 promos visit this link – below is a very brief overview of all the promotions:
A30 or A20 MeetingBar + CTP18 + FREE WPP30 – these very popular MS Teams certified MeetingBars will continue with the special pricing until the end of 2023, and you receive the WPP30 wireless content sharing dongle (we can swap to the VCH51 if you need it instead). These suit many organisations requirements and fly out the door – we have a demo unit of the A20+CTP18+WPP30 that you are welcome to take for a test drive! The year is ticking down so don't miss out on closing opportunities while the special pricing remains. Reach out to us uc@bluechipit.co.nz if you want to try it out.
MP54 Teams Edition Smart Business Phone – this very popular MS Teams calling device is on a super special at present saving over $100 per unit. Limited to stock in country if you need a Teams calling option this will assist you.
MTR Deal registration – contact uc@bluechipit.co.nz for assistance with any MTR opportunity. Deal register an opportunity receive a $20 Uber Eats Voucher, close the deal by 20th December 2023 and receive a further $30 Uber Eats Voucher.
NFR's – contact Megan Twentyman if you'd like to equip yourselves with NFR's of any Yealink gear so you can show it to customers. Special pricing will apply as will limits on units.
Yealink Microsoft Certifications – complete any of these and tag Soft Solutions on LinkedIn to receive a spot prize!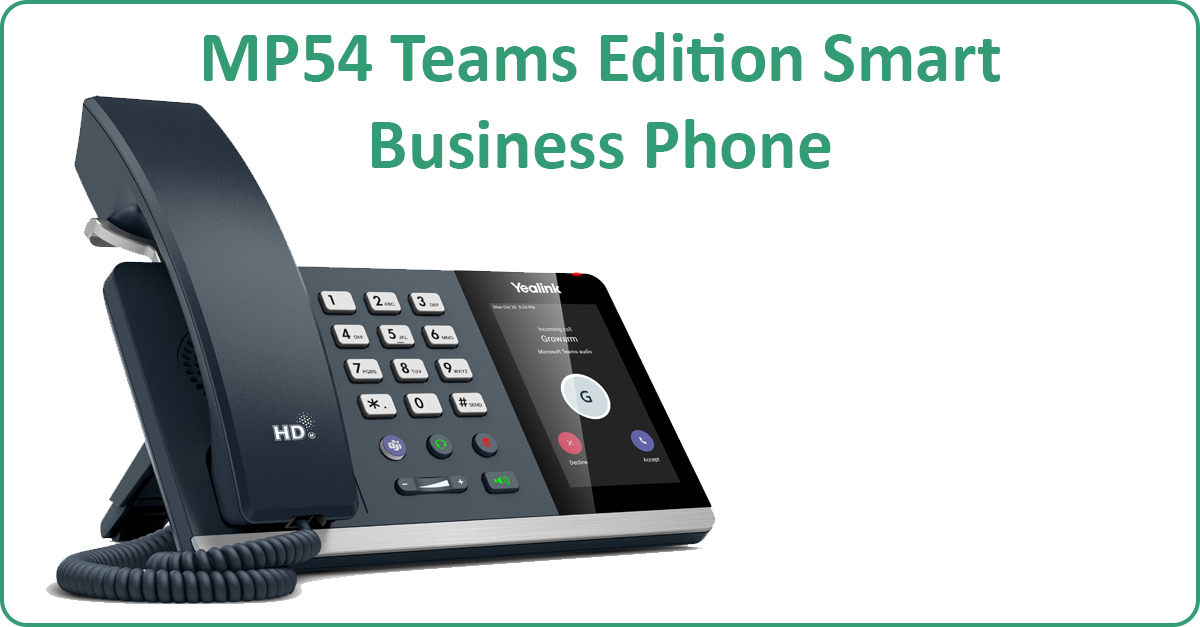 Jabra product spotlight
Jabra a renowned for their headsets but are making their mark in the video conferencing solutions for small to medium size meeting rooms. Their most recent release is the Panacast 50 Video Bar System for Android. The UC build is now available in NZ and can be configured for MTR or Zoom. The Panacast 50 has a 180 degree field of vision which makes it perfect for the modern meeting space.
In ANZ Jabra have launched some bundles to help you equip multiple rooms for your clients and these are featured below: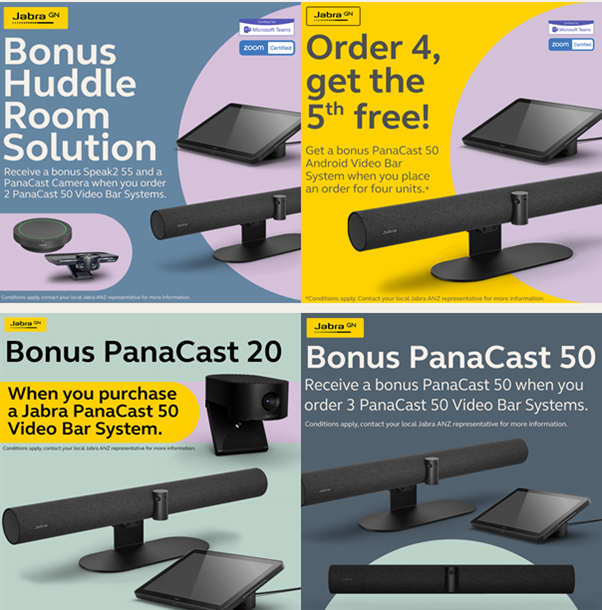 For more information, SKUs and pricing on these or any other Jabra products reach out to us on uc@bluechipit.co.nz
Fanvil IP phones and NFRs
Fanvil has a large range of router capable units to work with 3CX. We have the full range of Fanvil XU and V series phones in our demo stock so if you'd like to take them for a test drive reach out to us on uc@bluechipit.co.nz so we can arrange it for you. This slide from my recent presentation for our roadshows encapsulates the IP phone side of Fanvil: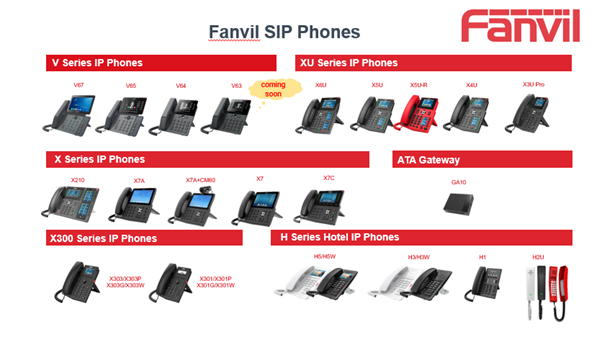 You'd also be amazed how often we are asked for a "red IP phone" to use for emergencies etc – Fanvil have you covered and you can see when Megan was presenting they pop off the page!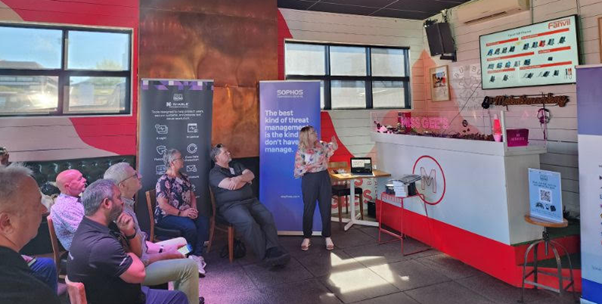 We are also able to offer special NFR pricing on up to 2 units of each model per partner – reach out directly to Megan Twentyman for pricing on the model you're interested in acquiring for your inhouse and demonstration purposes.
If you'd like to know more or receive a quote, contact our team on uc@bluechipit.co.nz.
3CX Technical Certifications – no news yet on exams, online training in November
As previously advised, 3CX are updating their technical certifications. They're moving from 3 levels of certification to just 2 and everyone will be required to re-certify. It is highly encouraged that all 3CX Partners have at least one staff member fully technical certified. Free support access from 3CX will be based on the level of certifications held, while Soft Solutions encourages the certifications we won't withhold first level support to our 3CX partners. The refreshed exams aren't quite ready yet – 3CX are working on updating the Portal and they'll be ready "soon". 3CX has released updated training preparation pages on their website. You can access these at:
Stay with us as we await the new exams to be ready and then we can get the training rolling throughout NZ on a regular basis – we believe it is important to sit the exam at the conclusion of the training session. We'll run each level as a one-day course, and we'll have options for in person or online. Global online training is available in November in the AU time zone (no exams yet though), just after our office hours but a good opportunity to start your training – links to sign up are below:
Each session runs for 2 hours so will be 6pm to 8pm NZDT.
3CX partnership – not a partner yet? Come and join us!
If you're not a 3CX partner, now is a great time to explore how effective the 3CX IP PBX unified communication platform is. We're sure it will fit several of your client's requirements – with options for Cloud hosted / on-prem and Linux / Windows installations, it's highly flexible. 3CX has recently updated its website, but a great overview is straight on their landing page at 3cx.com. To chat about becoming a partner and what 3CX's expectations are, please reach out to our UC BDM Megan Twentyman. Or, if you're ready to sign up – use this specific link. Soft Solutions will help speed up your application.
Case studies – stories sell products!
We value the opportunity to work with you to produce case studies on success stories with our UC brands. If you have a good story to share, please reach out to us on uc@bluechipit.co.nz and we can work with you. Case studies help sell the products to another customer. Grandstream have an incentive for GWN case studies but for case studies that we produce we're happy to shout your team a pizza lunch. Get in touch so we can help you grow through sharing successes.
Demo equipment
Here at Soft Solutions, we hold a demo pool of Grandstream and Yealink products. This ranges from IP phones, DECT phones to headsets, WiFi Access Points and more. We loan these units out to you our valued partners. It's a great way to be able to test out units and see if they meet the needs of your clients. A great way to evaluate new offerings ahead of purchase. If you'd like to borrow anything, please reach out to Megan Twentyman our BDM – UC in the first instance.
Join our LinkedIn UC community to see news first
Our "Soft Solutions NZ UC Community" group has been created so our customers quickly get all the latest news. We post regularly and welcome new members to the group. Keep up to date with upcoming Soft Solutions events, UC-related updates and any other general UC news. Join the LinkedIn group here.