New Zealand Cyber Security Risk Conference 2023
This month, our ManageEngine team attended the Cyber Security Risk Conference. Kris from our team hosted a round table discussion around Cert NZ's Top 10 Critical Controls and Australia Essential Eight Security frameworks. Andre and Joe from our ManageEngine NZ team were at the ManageEngine booth chatting about the best solutions to improve your cyber risk management practices. Thanks to everyone that had a chat to our team and were part of the round table.
Best Help Desk Software for 2023
ManageEngine's Service Desk Plus meets the needs of IT departments for a help desk solution that complies with the IT Service Management (ITSM) standard for aligning IT processes and services with your organisation's long-term goals. ServiceDesk Plus has been selected as the Best IT Help Desk Software for 2023 by the prestigious U.S News and World Report.
Strategies for managing legacy devices
With Microsoft having ended the extended security updates for Windows 7 and Windows Server 2008, it is time for IT decision-makers to look for a solution that can manage and secure legacy devices. Today's modern endpoints are tomorrow's legacy devices. Learn how Endpoint Central helps you manage your legacy endpoints and modernise your IT.
A guide to measuring your IT technicians' skillsets
A technician's effectiveness is tied closely to their skills, and recognising this is vital for unlocking their potential and elevating overall team performance. Performance dashboards fail to decipher technician expertise in tackling diverse challenges. Read this e-book to assess technician effectiveness accurately by measuring their skillsets.
2023 Cloud Computing Security Excellence Award
The Cloud Computing Security Excellence Awards is presented by Cloud Computing magazine, and it honours solutions that either leverage cloud platforms to deliver security solutions or provide security for cloud applications. ManageEngine's Log360 is a unified SIEM solution with integrated DLP and CASB capabilities, and it was announced as one of the winners in 2023.
Experience seamless troubleshooting now!
Want to experience the most seamless way to rescue enterprise customers when you're far away from work? Remote Access Plus caters to your needs with a lightweight and flexible mobile app. Effortlessly view multiple monitors, blacken end-user screens to keep credentials safe, and so much more.
Foster self-service adoption in five simple steps
Explore the five steps required to ensure the smooth adoption of your service desk and facilitate self-service for an exceptional user experience with our launch pack. Customise the digital touchpoint, build a service catalogue, maintain a valuable knowledge base, enable 24/7 help with a virtual agent and more.
Upcoming Webinars
Website and live chat
Visit our local website for the latest news, events, blogs and promotions.
We have a live chat, if you would like to reach out directly.
For any quote requests, email: manageengine@sofsol.co.nz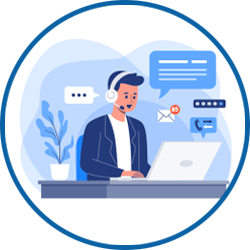 Telephone Support NZ: 0800 634 357
Support site: Learn more here.
Email Support: Each product has its own support email address, which can be found on the support site.
Evaluation Support: Same as above, but if your trial is expiring soon, we can help.
Escalations: Email ticket number and details to meescalations@sofsol.co.nz